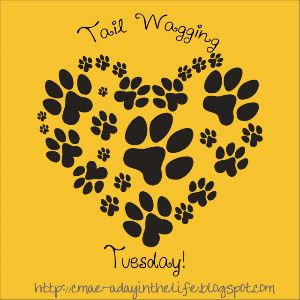 I'm back with the second edition of Tail Waggin' Tuesday hosted by CMae!
Cupie is not the kind of girl who likes new toys. No, she prefers a toy that either of the other "big" dogs have torn up. We call them pieces and she can't get enough of heads, arms or legs, or just little scraps of what was once a real toy. Usually the smaller the scrap the more she likes it. Sometimes I wonder where things even came from, but that little baby knows how to dig in the toy baskets (notice the s) for what she wants!!
With her pheasant head, duh!
Hope y'all enjoyed getting to see what Cu plays with every day!