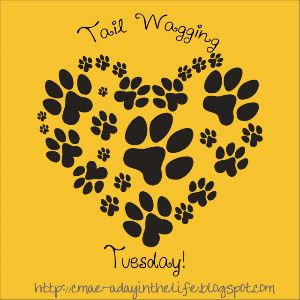 I'm here for another edition of Tail Waggin' Tuesdays! I love sharing pics of my furbaby every week, and this week's subject is where your pet sleeps. With Cupie, the question is where
doesn't
she sleep. That dog sleeps so much and can find a comfy spot anywhere. Her fave spots include any lap, the den floor, the porch couch, her kennel, her fluffy bed and best of all: mama's bed. I have always let her sleep with me. I know that is bad, but I just couldn't take her whining and crying when she was a pup, she would do it all night long if I put her in the crate. So, she sleeps with me and I like it! (other than having a slight dog allergy, and when she sheds it sometimes aggravates my asthma). But, she is a great bed partner, especially since she is warm and loves to cuddle! She is a bit of a bed hog though!
Here is one of the funniest pictures I have of her. She was napping before bedtime on my bed and she looks like a passed out drunk, lazy eye included. She was very tired from a hard day of napping! Also, her bone is always close by, and she usually keeps it on the edge so when it falls I will get down and get it... diva!
I hope y'all enjoyed a little Cupie lovin' this week!
ERK