I don't know about y'all but I'm ready for summer break... oh wait, I don't get that anymore. WAH!! The real world stinks! I miss the days of my "job" being taking kids to the pool and tanning (with sunscreen, of course). There are several things I need to be pool ready this summer, and number 1 was new suits. That is now taken care of with 3 new one-pieces! As I told y'all, I am going to be all about the one-piece this summer.
So, here they are: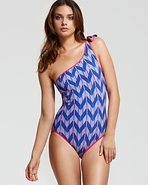 I love this Marc by Marc Jacobs one, but it came at a hefty price! If it isn't perfect it is going back to Bloomys (yes, I forgave them for the whole credit changing issue) Oh, and it is reversible!
And, if I felt like really splurging (not like I haven't already, swimsuits are muey expensivo!) I would grab these 2 DKNY suits from Zappos!

Other items that are necessary during the summer:
Sunscreen: (I have really sensitive skin to sunscreen, these are 2 I have found that my skin doesn't freak out with. I use the
Mustela
on my face (only a little though because it is thick!) and the
Kiehl's
on my body, usually SPF 40 though. I also use
Vanicream
SPF 60, but it is really thick and turns white when you get wet.) If you can't tell, I take my sunscreen seriously, especially since I had a severe pre-cancerous mole removed from my back last summer.
A hat: (I don't want my face getting wrinkles before it should!)

Vineyard Vines: I live in this hat or another baseball cap during the summer.

Any floppy, straw hat. Great for the pool, but not for the beach because the floppiness flies everywhere!

Inflatable beer pong table... ok, not necessary, but highly recommended! Riight now, we rig up 2 boogy boards to play and it doesn't always work out well!
A pink one, obvi!

What are your beach/ pool/ lake essentials?
I hope y'all are having a fab Thursday and happy Cinco de Mayo!!
ERK